Every year, Sage 50 offers variety of changes. Some are small changes, some are larger improvements, but everything is done in order to improve the functionality of the product and to make it easier to use. Likewise, Sage 50 2020 version offers you many amazing features and tools that makes your accounting activities easily and smoothly. In this write-up, we'll talk about how to Download Sage 50 2020 U.S. or Canada Edition and everything you need to know about this version such as system requirements, new enhancements, and more. 
System Requirements: Sage 50 U.S. Edition 2020
For both single-user and multi-user use a 2.0 GHz processor.
For both single and many users, 4 GB of RAM.
Having the most recent Microsoft updates installed, Windows® 7, Windows 8.1, or Windows 10 (version 1709 and higher) are all acceptable choices.
Installation requires 1 GB of disc space.
Supported versions of Internet Explorer include 11.0 and higher, which integrates with Sage Payroll Solutions, Sage Payments Solutions, and other Connected Services.
An additional 280 to 850 MB are needed for Microsoft®.NET Framework 4.7.2, which includes DirectX Dependency for .NET.
Minimum Resolution: 1280×800, Recommended Resolution: 1440×900 or higher; Small Fonts/DPI Settings Required; High Color (16-bit) SVGA Video.
Internet access is necessary for all online features and services (for optimal performance, download and upload rates must be at least 25 Mbps and 10 Mbps, respectively).
For Sage Drive companies, the maximum file size is 5GB.
A computer name with no more than 15 characters is required.
Integration/Compatibility Requirements
Microsoft (32-bit) Excel, Outlook, and Word 2007, 2010, 2013, or 2016 are required for Excel, Outlook, and Word integration.
Microsoft 365 Integration — Requires Microsoft 365 Business Standard or Enterprise Editions.
Printers compatible with Windows 7, Windows 8, or Windows 10.
Adobe® Flash® Player 11 or above is needed for in-product demos, with version 18 or higher being strongly advised.
Adobe Reader 11.0 and later.
Multi-User
Sage 50 Premium Accounting and higher supports multi-user environments.
Windows Server 2008 R2 SP1, Windows Server 2012 R2, Windows Server 2016 and Windows 2019 client-server networks, as well as Windows 7, Windows 8.1, or Windows 10 peer-to-peer networks, are best suited for multi-user mode.
For Sage 50 Premium Accounting, there is a limit of five licenced named users, and for Sage 50 Quantum Accounting, there is a limit of 40 licenced named users. A named user account receives a licence when it is chosen in the user management page.
2 GB of disc space on the server is required for component installation.
If you have any specific query, also get in touch with the experts of live chat.
Terminal Services
To operate in a Windows Terminal Services environment, you need Remote Desktop Connection or Remote Desktop Web Connection client software and Windows Server 2008 R2 SP1, 2012, 2016, or 2019 along with a maximum of 5 named users for Sage 50 Premium Accounting or up to 40 named users for Sage 50 Quantum Accounting.
When more Windows Terminal Services users are active, the Terminal Server needs more memory.
Registration of the customer and approval of the licence agreement for the Sage 50 Accounting software.
Other
Registration of the customer and approval of the licence agreement for the Sage 50 Accounting software.
System Requirements: Sage 50 Canadian Edition
Following are the system specifications for Sage 50 2020:
RAM greater than 4GB.
Processor at or above 0 GHz.
A minimum of Windows 7.
A hard drive with 1 GB of free space.
.NET Framework 4.7.2 or later is required.
Access to Internet-based services.
How to Download Sage 50 2020 U.S. Edition
The free to download Sage 50 2020 accounting programme is accessible on both Windows and Mac operating systems. In the United States, the planner is accessible for download, and it comes with all of the features found in the full version.
For both new and existing users, the following steps will walk you through the entire process of downloading Sage 50 2020 U.S. Edition:
For New Users
Sage 50 2020 download and installation instructions may be confusing for first-time Sage 50 users.
The procedures to download and install Sage 50 software are discussed below:
Make sure all system prerequisites are satisfied first
Click Consultant.na.sage.com to visit the official website
In the search box, enter Sage 50 download portal
Choose your desired products: Sage 50 2020 United State
Next, press the search icon
Select the download portal for the Sage 50 US edition
Installation requires downloading the Sage 50 2020 file
After done with that, click the Download button
Save it to your computer
And then you're supposed to install and activate the Sage 50 2020 U.S. Edition.
For Existing Users
On your product, you will receive an update. Therefore, by following these instructions, you can update yourself.
Start with opening your Sage account
Make sure to backup all of your previous Sage 50 release dates
Choose Services from the menu
For other options, click on the "Check for updates" option
To check now, click on the button
Updates can be found by clicking on the Sage 50 2020 update
On the "Download" button, click on it
Sage 50 Software should be closed once the Sage download has been saved and completed
The update then begins automatically.
Installation Steps for Sage 50 2020
Simple steps are required to install Sage 50 2020 has a straightforward installation process and a step-by-step manual.
Installing Sage 50 2020 throughout your network on each workstation requires you to take the data you need to view
On the computer where you want to install it, perform a search for the Clientinstall.bat file name
You can locate the file at \\(your server name)\peachtreeinstaller20xx/Clientinstall.bat in the (your server name) directory
There are issues with authorization if the file cannot be opened
Find and run the Setup.exe file by returning to the original location
You asked, "Is this the only system running this Sage 50?" when a pop-up message box appeared
To proceed, select "Next" after selecting the "No" option
The Sage 50 company files are now located on the server in the other system that you selected before
Once you've confirmed that Sage 50 2020 is already installed on the server, move on by selecting the I confirm that option and selecting "Next"
Verify where the Program is located and where its data is located
Following that, choose the "Install" button
Every workstation requires installation, therefore you must continue
Installing should also start simultaneously on all workstations.
Download and Installation Step: Sage 50 2020 Canadian Edition
Sage 50 is robust accounting software that helps in the management of business finances. The Sage 50 software is simple to download, set up, activate, and use.
Install Sage 50 Canada Edition 2020 by following these steps:
Visit the Download Sage 50 Canada Edition link
Sage 50 2020 Canadian is available for download right now
Start Sage 50 setup right now
Select the folder where you want the software to be installed
Select a language for the installation
If you are asked "Do you want your firewall automatically configured to work with Sage 50?" Choose "Yes" (Recommended)
Select the installation type
Select Typical if you don't want to specify any preferences
Enter the serial number or choose the trial version
After done with the above, agree with the terms and conditions
Sage 50 should be opened, then the Finish button should be pressed.
Features of Sage 50 2020 U.S. Edition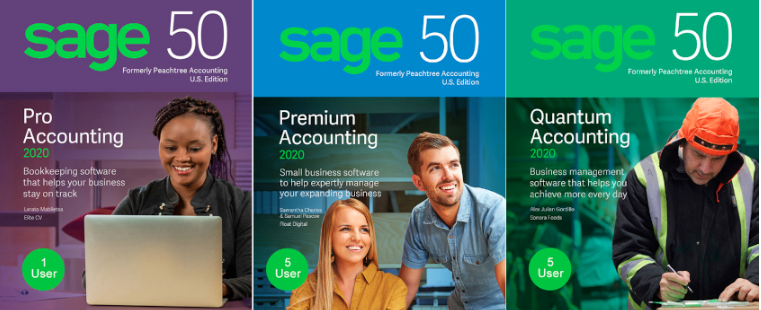 Well, there are lots of enhancements done in the version of Sage 50.
The below discussed are the following features come with Sage 50 2020 U.S. Edition:
Longer Deposit Ticket ID

: The Deposit Ticket ID field now has 20 characters instead of the previous 8 characters. Anyone who wants to include the date as part of their deposit ticket ID will greatly benefit from this.

Vendor Notes Field

: A Notes area with a maximum character limit of 255 has been added to the Maintain Vendors screen. On none of the forms, the note field prints.

Select a Customer Contact when Emailing

: There will now be a drop-down option that allows you to select from the list of contacts for that client when emailing an invoice or other customer form. Previously, it would only send to each customer's primary email. There can only be one contact per email, as always. This does not apply to batch emailing of forms; it only applies to sending individual emails. Quotes, Sales Orders, Proposals, Sales/Invoicing, Receive Money, and Credit Memos all have access to this new drop-down menu.

Longer Address Fields

: Customer, vendor, and employee address fields now have 50 characters instead of the previous 30.

Additional Fields on the Withholding Info Tab

: A number of states have implemented laws requiring new payroll deductions and formulae. Sage has added "Special 3", "Special 4", and "Special 5" fields to the Withholding Info tab of the Maintain Employees window to handle these additional formulas and the variables they necessitate.

Longer Item Type Field

: Inventory items now include a 20 character Item Type field instead of the previous 8 character limit.

Database Upgrade from Pervasive v11 to Actian Zen v13

: Sage 50 has changed the name of the Pervasive database engine it uses to manage your data to "Actian Zen" and moved from version 11 to version 13 of the engine. The majority of users won't notice a difference in how Sage 50 works because this is an internal update. However, Sage claims that it would enhance some database operations' efficiency, contain the most recent data security safeguards, and help ensure compatibility with Windows updates. Some users will be impacted by one component of this modification. Sage 50 versions prior to 2019 won't function on the same computer as Sage 50 2020 due to the database update. Apart from accountants who must serve clients using various Sage 50 versions, this will only significantly impact a small number of people.

Inbox Bell Icon

:  A bell icon has been added to the upper right corner of the main Sage 50 window to let you know when there are any unread messages from Sage.
Features of Sage 50 2020 Canadian Edition
New Options for Pay Periods

: The Employee Records window now offers that option for years with 27 and 53 pay weeks. The Setup Guide, which you may access at any time from the Setup menu, also allows you to adjust the pay periods.

Updated Forms for Paycheques and Direct Deposit

: Forms for paycheques and direct deposits now include a field for the pay period starting date by default.

Enhancements for Copying Existing Transactions

: The copy and create new capability, which is brand-new to Sage 50 Premium Accounting and was previously limited to sales and purchase orders, has been expanded to cover all transaction types in sales and purchases.

Search Criteria in Premium Accounting

: You can search up completed orders if you're using Sage 50 Premium Accounting for the first time. This will provide you a more streamlined view of all the orders that have been finished at the keystroke.

Post Transactions Into a New Calendar Year

: Now, transactions other than payroll can be posted into the following calendar year (same fiscal year) without first closing the current calendar year. These transactions are also available for review and modification at any time.

Company Logo Saved to Database

: You won't need to look for your company's logo and upload it to your company settings when you transfer your Sage 50 company database to a new computer. The firm database now includes the logo, which may be modified whenever desired.

New Category Filter When Updating Price Lists

: When utilising the Update Price Lists box, you may now filter inventory and service items based on the category to which they have been assigned.

Enhancement to Invoice Payments

: Sage 50 can now update the link in the email and invoice sent to your client to show that the invoice has already been paid in the event that your customer pays an invoice without using the Pay Now button (for instance, they pay with a check). By avoiding having to return the additional payments or inform your customer about them, you can save time.

Add Your Company Logo to Sales Quotes and Orders

: By adding your company's logo to the sales quote and order forms, you can now make a strong visual impression. You may include a logo at any time after creating a sales quote or order.

Improve Conciseness and Readability of Reports

: The following reports are now automatically concealed from view: Customer Sales Detail, Vendor Purchases Detail, Inventory and Services Transaction Detail, and Inventory and Services Sales Detail. To include any modifications in a report, you can always select Show Corrections.
Need Expert Help

Are you getting

Download Sage 50 2020

and don't know how to solve it? In that case, you must get immediate help from our Sage 50 live chat experts by dialing the

ReConcileBooks

helpline number at any time.
Updates of Sage 50 2020
The three updates made available for Sage 50 2020. All of these updates combine new features and benefits with old ones.
Here are these three updates:
For Sage 50 2020.0
Improvements to usability and efficiency.
Version 13 of Actian's database has been updated from version 11.
For Sage 50 2020.1
Aatrix Human Resource Forms and a new compliance module are available.
Payroll was updated to reflect the revised Form W­4's requirements.
The experience with Connected Services has been enhanced.
Enhanced 1099 electronic filing procedure.
For Sage 50 2020.2
Enhancements to usability and productivity that are new and better.
New is the inbox notification panel.
Attachment functionality has been enhanced.
On the Window of Payments and Receive Money task, the invoice number fields are extended as follows:
The navigation centre and access points have been updated.
A new default cash account option has been added for receipts.
To get the best assistance regarding the Download Sage 50 2020, you can simply dial +1-347-967-4079 to contact our Sage 50 Specialists Team.
Conclusion
This is how you can Download Sage 50 2020 U.S. or Canadian Edition. Hopefully, the above information will be helpful for you but in any case if you git stuck or facing any issue during downloading process. You can feel free to get in touch with our Expertise simply by dialling Sage Customer Helpdesk. Our experts will connect LIVE CHAT you shortly and help you troubleshoot your issue related to Sage 50 2020 version.
A Frequently Asked Questions
What are the System Requirements Needed for the System Configuration in Sage 50 2020 Version?
You are required 2.4 GHz processor (Intel Core i3 and higher) for single user and multiple users and 4 GB of RAM for single user and 8 GB for multiple users.
Yes, there are listed suggestions you must keep in mind before you go for upgrade process:
You must make a backup of the current data before upgrading.
Check for upgraded version system requirements. The program can be upgraded from the software itself.
While you upgrade or remove Sage 50, the company files stay in place exactly as they are.
The company file was automatically updated to the most recent version.
What are the Benefits of Downloading Sage 50 2020 Version?
The below are the benefits you can avail by downloading Sage 50 2020 version:
Cyber Security

: Data security requires the use of cyber security. Cybersecurity firewalls offered by advanced security block access from unauthorised parties.

Easy Access

: Multiple employees working on the same document can access it with a single password without having to share it. It gives you better outcomes and saves you a lot of time.

Paperless Workplace

: You can quickly access and assess any document in your company. You don't need to be concerned about archiving crucial documents.

Creativity

: The transactions are simple to use for your business with this accounting software. The entire accounting process for businesses is computerised. You may therefore concentrate on growth to attain quick productivity and efficiency.

Automatic Backup

: As soon as your data is damaged, Sage will immediately preserve it. Consequently, you can locate it with a few clicks in the future if you require it.
Tags: