Sage 50 is a top-notch accounting program that has earned the respect of small and medium-sized organizations. Additionally, Sage 50 hosted in the cloud gives your company access to your financial records from anywhere and at any time. It continually releases new versions of the program with updated features. Many times, users may find it difficult to download fresh program versions. In this article, we'll discuss the complete process to download Sage 50 2018 to take advantage of the cutting-edge capabilities also learn more about all the remarkable features and how they work. You must meet some of the conditions outlined in this article in order to download. You can simply follow the instructions if you don't know how to download and install the Sage 50 2018 software.
System Requirements to Download Sage 50 2018
You should be aware of the prerequisites your system needs if you've chosen to download the Sage 50 program to your computer system. The following information will inform you of what needs to be downloaded.
Read the following details and make sure you meet any prerequisites if you can; otherwise, you won't be able to download the software.
A 2.0GHz processor is recommended for both single- and multi-user environments.
A minimum of 2 GB of RAM is required for both single and multiple users.
It can only be used with certain versions of Windows, including:

Microsoft Windows 7 Microsoft Windows 8/8.1

1 GB of hard-disk space is needed for the system.
If you simply wish to utilize the Sage 50 2018 program, it is strongly advised to use Internet Explorer 11.0. Internet Explorer 9.0, 10.0, and 11.0 will all operate flawlessly with the Sage Payments solution and other associated apps.
The MS .NET Framework 4.5.2 or higher Edition should be used, along with an additional 280 MB to 850 MB of disc space for MS .NET installation.
Screen resolutions of 1440 X 900 or higher are recommended. However, 1280 X 800 is the very minimum required.
Many apps require strong Wi-Fi or internet connectivity.
The use of Adobe Reader 11.0 is advised.
Adobe Flash Player 11 should be installed on your computer because version 18 needs it.
Sage 50 2018 mandates the use of small fonts and DOI settings.
Make sure Microsoft Office 365, preferably Business Premium, is installed on your PC.
Use of a minimum 16-bit high color SVGA video is advised.
Microsoft Word, Outlook, and Excel versions 2007, 2010, 2013, and 2016 are required for system integration.
Step by Step Procedures to Download Sage 50 2018
You need to start by visiting Sage's official website
The second step requires you to type Sage 50 download and then hit the Submit button
The product you want to download must then be selected
Next, you're supposed to choose the Sage 50 Edition such as U.S. or Canada
To begin the downloading process after completing the aforementioned steps, pick the Download option
After that, select the Save File
You must now access and open the Sage 50 download file
When the downloading procedure is complete, you must exit to end this process.
Perform the Installation Steps for Sage 50 2018
Prerequisites Precautions Should be Taken into Action Before you Perform Installation Steps
The installation of Sage 50 2018 is simple to carry out, and with a service provider's assistance, you can easily finish the procedure. Before you begin the installation procedure, there are a few things you should be aware of.
The Sage 50 software and computer system must be functional in terms of technical requirements before you begin the installation process.
You must close all background-running apps if you want the installation process to go without interruption.
Make careful to disable firewall and antivirus settings in order to avoid interference.
Check to see if your notification settings are enabled.
Verify that the User Account Control is set to the minimal settings by going there.
Steps to be Followed to Install & Download Sage 50 2018 Version
When you begin the installation process, a pop-up notification with the terms and conditions of the software is displayed on your computer screen
You must select the "Yes" option
After acknowledging, you must choose "Next" and then "Auto configure the Windows Firewall to allow install" before moving on to the "run" option to finish the procedure
Following this, you must enter the "serial number-software validation code" and select "next" to continue
The next step requires you to create a path under "program files" and then select the "install" option.
The final step requires you to wait till the installation procedure is finished.
Updates Available to Download Sage 50 2018
There are three updates available, you can download any of the following updates:
In this update version Outlook 2016 is compatible with Sage 50, you can easily send an email such as invoice from Sage 50 using your Outlook 2016. Moreover, many of the screens in the installation routine have been combined and simplified.
The 2018.1 updates new capabilities are exclusive to Sage 50c users, or those with subscription licenses rather than traditional licenses.
In this update, you can avail many of the advanced features and tools including the above 2018 update released that are going to discuss in the below feature section.
Features Come with Sage 50 2018
Let's explore many amazing features which are added in the following version: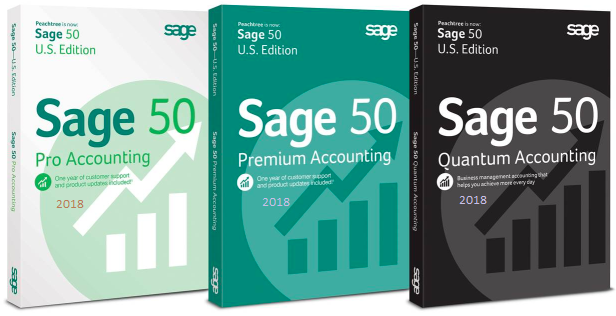 Sage 50 2018.0 version
Inactivate Inventory Items Based on Last Activity Date
Now, you may choose a group of inventory items based on the date of their most recent activity and designate them as inactive, just like you do with clients and suppliers. This eliminates the need to individually identify objects as obsolete and inactive.
Improved Options for Click to Pay
Sage Payment Solutions users now have the option to add a payment link in emailed invoices so that clients can pay online with a credit/debit card or an e-check (ACH). But they made the dreadful mistake of uniformly activating the "Pay Now" link display option in all sent invoices. Each customer's device has to be manually turned off. Thankfully, the 2018 version gives you the ability to disable that feature for all users.
User Interface Modernization
The most noticeable change in version 2018 will undoubtedly be this. Software publishers must keep up with changing trends in the industry or risk being branded as out-of-date, which is a very undesirable thing in the computer industry. With a largely monochromatic color scheme, plenty of white space, and a flat appearance for all symbols and menus, the main Sage 50 window now has a highly contemporary design. It is made to operate better with the high-resolution monitors of today and adapt to various window sizes. For instance, if the window is too small to display all of the toolbar's buttons, an arrow will show up so that you may access the others.
Updated icons, doughnut charts in place of pie charts, a gear icon in place of the customize link in the shortcuts section, and a display of your Sage 50 version (Pro, Premium, or Quantum) in the bottom right corner are some other changes that have an impact on how the page looks. The main window, which includes the Business Status/My Dashboard, the navigation centers, and the management centers, will first give you the impression that it has undergone significant alteration. You won't need to learn how to utilize the programmer from scratch, which is wonderful news. Just the appearance and feel have changed. Menus and navigation centers retain their original design and functionality. It's always seemed that Sage 50's user interface was cleanly organized and made the program simple to use.
The peculiar thing is that, up to this point, only the main window has been updated; when you open a task or maintenance window, that window will still appear to be from version 2017. A split personality is created in the program as a result of this. Although Sage hasn't provided any information regarding their goals, I believe that following updates will include other screens.
Cleared Column on Check Register
On the reports for the Cash Disbursements Journal and Check Register, you can now add a column to display the Cleared Date. To display the date the transaction was cleared in account reconciliation, simply select the Column button in the report window and tick Cleared Date.
Bean works, a service that automates accounts payable, will be able to interact with Sage 50. The processes of entering/coding invoices, approving invoices, and making electronic payments can all be automated.
On your iPhone or iPad (unfortunately, there isn't an Android version yet), you may use this new app to take a picture of a receipt and enter the transaction details. Transactions may later be imported into Sage 50. photo will be added as an attachment to the transaction and kept in your One Drive account. For this feature, MS-Office 365 Business Premium is necessary.
Office 365 User Roles & Permissions
To provide you more precise control over how Office 365 users can use the Sage 50 integrations, including Sage Contact, Sage Capture, and Sage Intelligence, five new security groups have been created.
Sage Intelligence Reporting Cloud
By making Sage Intelligence Reporting financial reports accessible from your Microsoft Office 365 Business Premium dashboard, this makes the most of the new Office 365 interface. There are a number of customizable balance sheet and income statement formats available, or reports can be created from scratch. These reports can be created in an HTML web page or exported to Excel on a computer or online.
If you have any specific query, also get in touch with the experts of Sage 50 Live Chat.
Sage 50 2018.1 version
Cloud & Mobile Navigation Dashboard
There is now a new Cloud & Mobility navigation in Sage 50 that gives users access to connection with MS-Office 365, Sage Drive, and Sage One.
Sage Dashboard and Office 365 Enhancements
The new Sage Dashboard software (which requires both Sage50C and Microsoft Office 365) makes graphs and charts for Accounts Payable, Accounts Receivable, and Revenues/Expenses available in Office 365 so you can view the dashboard wherever you have internet connection.
It enables you to quickly and securely create a link with your bank online so that Sage 50 may download activity from your bank into the Account Reconciliation pane. Apart from that, this gives you an automated substitute for manually importing an .OFX or .QFX file into the account reconciliation window after downloading it from your bank. Bank feeds streamline the process of comparing the transactions in Sage 50 with the transactions from your bank and making sure that all of the transactions on your bank statement are accounted for in Sage 50, just like the manual import process does.
Sage 50 2018.2 version
Online Customer Payments that Automatically Synchronize with Sage 50
Although Sage refers to this as "Sage Business Cloud Payments," both Sage 50cloud and conventional users can utilize it. And if that sounds similar to you, it is the same idea that they called "Click to Pay" when they first introduced it in version 2017.2. However, they have improved and expanded on it, so I'll excuse them. The concept is that you can include a payment link with emailed invoices if you use Paya (formerly Sage Payment Solutions) or Stripe (Stripe connection is new for 2018.2). Your consumer is directed to a secure website where they may pay your invoice online when they click the link. Additionally, Sage 50 will automatically import those payments as transactions for cash receipts. This import is more than simply for the general ledger. In fact, they make the same updates to the client and invoice records as if you had manually entered them in Receive Money. Additionally, when batch sending bills, it is now simpler to manage which customers receive a payment link and which ones do not.
All fees are deducted from each transaction by both Stripe and PayPal. Thankfully, the integration handles taking the costs out of the money collected. With Paya, however, you receive the full payment amount and fees are automatically taken from your account each month, which can make the reconciliation process much simpler.
Windows 10 Stability Improvements
Sage 50 2018.1 and earlier would randomly (and regularly) crash after installing the Windows 10 update known as the Fall Creators Update. The 2018.2 release provides a patch for the issue! Therefore, after updating to version 2018.2, you can disable the "Run as Admin" option if you set your Sage 50 shortcut to that setting in order to make it compatible with Windows 10.
Sage's foray into the field of chat bots and virtual assistants is called Pegg, and they are currently all the rage in the software industry. Pegg uses synchronized Sage 50c and MS Office 365 Business Premium data, and it lets you voice or type commands into a messaging app to access the synchronized data. Therefore, Pegg is for you whether you've always wished you could communicate with your computer in the manner of sci-fi movies or you think communication should only occur via text messages. Currently, Pegg is just able to offer client information like:
Call or email clients

Last three invoices including date, invoice number, first line description, and balance dueGPS access to client locationsContact information

Access to each client's current balance, average days to pay, and credit limit.
Pegg now uses Skype (not to be confused with Skype For Business) or Facebook Messenger.
Sage Capture now Available on Android
Sage capture is a cost monitoring tool that was formerly only accessible on iOS devices. With the camera on your phone or camera, you can quickly add details to a receipt image and save it to the cloud using your Office 365 Business Premium One Drive account. Expenses recorded using the app will be synced into your Sage 50 data as Payment transactions with an image of the receipt attached (on the "Apply to Expenses" tab, not the "Apply to Invoices" tab).
Sage Drive Compatibility with Office 365
Users of Sage 50 can now synchronism their data with Office 365 via Sage Drive, Sage's data sharing service. In the past, the user had to turn off Sage Drive in order to sync with Office 365.
Sage Intelligence Report Cloud Enhancements
Standard and custom reports are on distinct tabs in the cloud edition of Sage Intelligence Reporting, which also allows you to create folders to organize your reports. Reports can now be provided in PDF format. Additionally, a new "management pack editor" enables you to construct groupings of reports with or without a cover page.

Conclusion!!!
These are seamless aspects of Download Sage 50 2018. For more queries or concerns, you can speak directly to the experts by calling the Sage 50 Customer Help-desk and discussing your issues to get a relevant solution. Our Experts can help you all round the clock in dealing +1-347-967-4079 with the technical hindrances such as update/upgrade, download, install, and more live chat.
A Frequently Asked Question
How Can I Transfer My Data to a New Computer After Downloading and Installing Sage 50 2018 On It?
Simply perform the below steps in order to transfer your data to a new computer once you're done with downloading and installing process of Sage 50 2018:
You must establish a connection with the external device in order to transfer the data to a new computer
The .sai file and .saj folder should then be copied and pasted into your external device
Connect the external device to the new computer, then copy the content and paste it there
Finally, launch Sage 50 and select the appropriate option. You've now finished moving Sage 50 2018 data to a new computer. Select an existing company and open your company file.
What are the Benefits of Sage 50 2018?
For organizations that desire the best outcomes possible from their accounting software, Sage 50 2018 is more advantageous. You will find improved security with Peachtree accounting. Accounting information for the organization is crucial for the business, and with the aid of this improved security, it is now simple. The evaluation of taxes and other accounts is now simple and error-free. This program has better reporting features, inventory control, and other features while being user-friendly and scalable. Therefore, it is feasible here to find high-quality software that will shorten your accounting process while also maintaining your company's data in a secure environment with a high level of privacy.
What are the Sage 50 2018 Errors that Could Happen While Using this Version?
The Sage 50 2018 software is susceptible to 4 issues, including:
Sage 50 can't open database

: Because the software's database engine reported an error, Sage 50 is unable to open the database.

Sage Error 41

: When the Sage 50 printer cannot be activated, it mostly happens.
Error loading company file in Sage 50: It typically occurs when recent company files cannot be opened because of damage or corruption.

Sage 50 accounting stopped functioning

: Sage abruptly stopped responding throughout this and stopped working.
Tags: