Sage 50 is a best choice if you're looking to manage your accounts. It's crucial to install the product before beginning your task. In this post, we'll show you where to get the Sage 50 serial number and activation key and, if necessary, provide you step-by-step instructions on how to utilize them. This should assist you in getting the assistance you require from Sage and help you find solutions to any issues you may be having. Regardless, you will at least be aware of where to look for the data you require. In this blog post, we'll the different ways for how to find Sage 50 Serial Number and Activation Key.
Different Ways to Find Sage 50 Serial Number and Activation Key
Well, there are number of ways to find your Sage 50 serial number and activation key.
Let's look into the procedure one by one as discussed below:
Way 1: For Serial Number and Activation Key
Log on to the Sage website
Enter your information by clicking the Sign In button after entering your email address and password
Select My Account from the menu
You will receive a list of the accounts you are linked to
Note down all relevant account numbers at this point
Go to the Home page >>> My Account can be accessed by clicking here
Look for the Products and Services option
You can view the registered services and products by clicking Product and Service
The serial number and cover type are among the additional details that are included
Find and choose the serial number that corresponds to the products or package
The Activation Key is now visible on the screen, together with information on the number of companies, license details, users, and employees
From here, you can note down your serial number and activation key.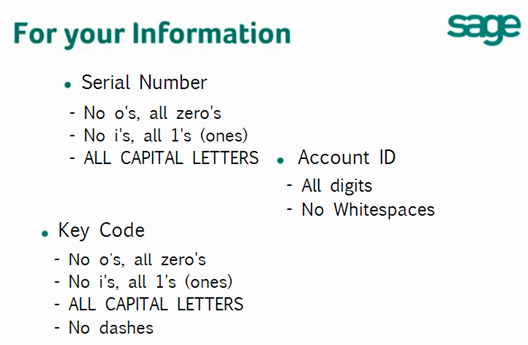 To activate your Sage 50 software, you must now enter this activation key
Initially, activate your Sage 50
Upgrade your Sage 50 Product can be found under Help by going to the Help menu
Enter the activation key and any other codes that you have written down in the window that appears
In the Serial Number and Key Code boxes, make sure to type all letters capitally
Hit the OK button
The key codes you have entered will be repeated by the device
To confirm the action, hit the "OK" button
Sage 50 accounting software will then be activated in its full version.
Way 2: Find your Sage 50 Serial Number and Activation Key From the CD
You can also buy a Sage 50 CD drive and get the number from the back of its cover as an alternative method of locating.
Simply enter the serial number that was found on the CD cover into the Sage 50 20xx Portal when prompted
Then, enter the serial number using the processes (described below) on your desktop (or the machine serving as the master for all essential Sage 50 data)
Select "Sage 50 software activation" from the "Help" menu on your administrative PC or laptop
Then click "OK" after selecting the most recent version you are working on
You'll be prompted by the software to enter the serial number, which you can get from a CD.
Need Expert Help:

Are you getting

Sage 50 Serial Number and Activation Key

and don't know how to solve it? In that case, you must get immediate help from our Sage 50 live chat experts by dialing +1-347-967-4079 the ReConcileBooks helpline number at any time.
Way 3: Find the Serial Number and Activation Key within Sage 50
Learn how to locate the Sage 50 activation key, serial number, and account number in this section:-
You must first go to my.sage.co.uk and then click sign in
You must now log in by providing your Sage account email address and password
You must select the appropriate company if you are linked to more than one account
After that, you must click Software and then Active Products
The proper product or package's serial number must now be clicked
The pertinent license information and activation key information will show up
Your Account Number, Activation Key, and Serial Number must all be written down.
Process to Check the Account Number, Serial Number, and Activation Key in Sage 50
The account serial number, and activation key can all be checked out of Sage 50 Cloud Accounts using the instructions in this section.
By launching Sage 50cloud Account, you must log in as the manager
Select About, then click Help
Under License Information, look for your license

Serial NumberActivation key

Conclusion!!
Hopefully, the above information will be helpful for you in finding and checking your account number, serial number, and activation key in Sage 50. In case, you need further assistance or looking for Experts assistance, just dial Sage 50 Customer Help-desk and our experts will connect you shortly and help you in troubleshooting your queries.
FAQs:
How Do I Add Full Sage 50 Activation Code?
The steps listed below can help you achieve this:-
Start Sage 50 accounting program
To upgrade the software, choose "Tools"
Now, enter your account information as well as other vital details like the serial number and activation key
To finish the procedure, hit the "OK" button.
Why do Sage Users Need a Aerial Number and Activation Code?
In order to prevent inviting duplicate software, viruses, and Trojan horses onto your computer, serial numbers and activation codes help to confirm that you are purchasing and installing only authorized software. Most of the tools that enable you to operate your business effectively are only accessible through authorized software.
What to Do if My Activation Key is Not Working After Trying Multiple Times?
The very first, make sure that you have enter your Activation key in upper case letters. Many times, it can be the reasons behind such issue but if your issue still not fixed then get in touch live chat with Sage Help-desk Team.

Tags: