Need Expert Help: Are you getting Sage 50 Quantum 2023 and don't know how to solve it? In that case, you must get immediate help from our Sage 50 Live Chat experts by dialing the ReConcileBooks helpline number at any time.
One of the primary reasons Sage 50 software is so well-liked is that new releases and versions are consistently added. The brand-new Sage 50 Quantum Accounting software was just unveiled by Sage. It is packed with a tone of features that are industry-­specific and are made to assist you better simplify your accounting operations. This new software has a number of potent capabilities that will help you stay in compliance with the most recent federal rules while safeguarding your important business data. An overview of the new Edition from the Sage software family will be provided in this blog. This blog will give you a good Sage 50 Quantum Accounting 2023 Overview including all necessary details about it.
Thus, Stay Tuned Till The End!
Industry-Specific Features
The ultimate, high-performance desktop accounting program is Sage 50 Quantum 2023, formerly Peachtree. It offers capabilities relevant to the manufacturing, distribution, and construction industries.
Distribution Functions:
Quantity price breaks
Inventory trend analysis
Enhanced kitting & assembly capabilities
Order/sell using vendor part numbers
Distribution specific operational report.
Manufacturing Functions:
buy/sell in different units
Enhanced assembly capabilities
Manufacturing specific operating reports
Construction Functions:
Subcontractor insurance tracking
10 operating reports
Subcontractor insurance tracking
Labor burden assessment
Track retainage from both sides
Manage current and future job costs
Progressive billing
View information for the entire job, the job/phase, or job/phase/cost code.
Read article: Sage 50 2020 payroll tax tables update
Features & Benefits of Sage 50 Quantum Accounting 2023
Some of the key characteristics of the Sage 50 Quantum Accounting 2023 software are listed below:
Improved Customer Management Features

: You may automate, arrange, and synchronize customer-related business operations more effectively thanks to its improved features. Additionally, this will assist you in saving money on marketing and customer service expenses.

Enhanced Financial Management Capabilities

: Software Sage 50 Quantum Accounting 2023 is made to fully adhere to GAAP (Generally Accepted Accounting Principles). It has a tone of security and accuracy checks built in so you can run your business with complete peace of mind.

Efficient Inventory Management

: You can now have improved order monitoring and prevent bottlenecks with Sage 50 Quantum Accounting 2023 at your disposal. You can continue to receive orders while automatically replenishing your inventory.

Manage your Vendors Better

: The detailed dashboard in Sage 50 Quantum Accounting 2023 makes it simple to view your vendor and supplier information quickly. With only a mouse click, you can access real-time information about all of your purchase orders and payments.

Ensures Better Workflow Management

: You can effortlessly keep track of every moving component of your order process from one central location with Sage 50 Quantum Accounting 2023. By doing this, you can make sure nothing is overlooked. Additionally, you can alert the following participant in the procedure well in advance, providing them with the accurate status and any pertinent remarks, as needed. Additionally, after a specific task is finished, you may automatically send warnings and notifications to selected clients, workers, or suppliers.

Efficient Job Reporting

: Sage 50 Quantum Accounting 2023 gives effective tools for managing and reporting on jobs. It can proactively manage your projects, keep track of task progress, and meet all of your real-time reporting requirements. Here, all of the information pertaining to a particular work would be displayed on a single screen. To provide you exactly the information you require, all the details are presented in a personalized way. Links to specifics will be included, and all data is safeguarded in accordance with the access guidelines you've established.

Ensures Better Management of the Payroll

: You can now independently manage your Sage 50 payroll using the Sage 50 Quantum 2023 Accounting platform. Numerous payroll options are available, including e-filing, direct deposit, print-and-sign tax forms, and even full-service outsourced payroll.

Secures and Efficient Multi-User Management

: The Sage 50 Quantum 2023 Accounting platform now allows you to autonomously handle your payroll. There are several payroll choices, including as e-filing, direct deposit, print-and-sign tax forms, and even full-service outsourced payroll.
Click here ➤ Download Sage 50—U.S. Edition 2023
How Does Sage 50 Quantum Accounting Works?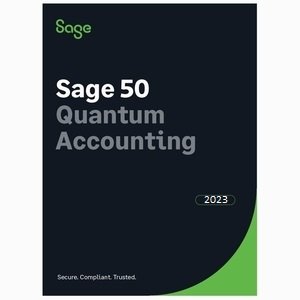 A cutting-edge accounting technique called quantum accounting tracks financial transactions using the principles of quantum mechanics. Quantum accounting is growing in popularity because it enables a more precise and effective means of managing financial data.
Large data sets can be processed by quantum computers significantly more quickly than by conventional computers. This makes them perfect for jobs like accounting, which demand accuracy and quickness.
The concepts of quantum mechanics are applied to accounting in quantum mechanics. The atomic and subatomic constituents of money and other assets are taken into account when handling these transactions.
Compared to conventional accounting techniques, this strategy has a number of advantages.

It is more accurate in the first place because it considers all the minute aspects of financial transactions.
Because quantum computers can process huge volumes of data quickly, it is also faster.
System Requirements for Sage 50 U.S. Edition 2023
Minimum System Requirements
For both single-user and multi-user use, a 2.0 GHz processor.
For both single and many users, 8 GB of RAM.
Windows 11 or Windows 10 with the most recent Microsoft updates installed (versions 21H1 and higher).
Installation requires 1 GB of disc space.
Microsoft Edge (version 2020 and higher) web browsers are supported when accessing available Connected Services outside of the product; Google Chrome TM and Microsoft Edge (version 2020 and higher) web browsers are required for Sage Payroll Solutions, Sage Payments Solutions, and other Connected Services integration.
Microsoft®.NET Framework 4.8; extra space needed between 280 and 850 MB.
SVGA video with at least high color (16-bit); Small fonts and DPI settings are necessary; minimum resolution is 1280×800, preferred resolution is 1440×900 or higher.
Internet access is required for all online functions and services (For best performance download speeds of at least 25mbps and upload speeds of at least 10mbps).
For Sage Remote Data Access businesses, the file size limit is 5GB.
15 characters or fewer are needed for the computer name.
Integration/Compatibility Requirements
Microsoft Excel, Outlook, and Word (32-bit versions) 2013, 2016, and 2019 are required for Excel, Outlook, and Word integration.
Microsoft 365 Business Basic, Standard, Premium, or Enterprise Editions are required for Microsoft 365 Integration.
Windows 10 or Windows 11-compatible printers
Acrobat Reader by Adobe®.
Multi-User
Sage 50 Premium Accounting and higher supports multi-user environments.
For client-server networks running Windows Server 2022, Windows Server 2012 R2, Windows Server 2016 and Windows 10 peer-to-peer networks, multi-user mode is best suited.
For Sage 50 Premium Accounting, there is a limit of five licensed named users, and for Sage 50 Quantum Accounting, there is a limit of 40 licensed named users. A named user account receives a license when it is chosen in the user management screen.
2 GB of disk space on the server is required for component installation.
Terminal Services
For Sage 50 Premium Accounting to work, a Windows Terminal Services environment needs Windows Server 2012 R2, Windows Server 2016 or Windows Server 2019, as well as Remote Desktop Connection or Remote Desktop Web Connection client software. Sage 50 Quantum Accounting needs up to 40 named users.
When Windows Terminal Services is running with multiple users, Terminal Server needs extra memory.
Other
Registration of the customer and approval of the license agreement for the software solutions from Sage 50 Accounting.
Business Care Plan
All versions of Sage 50 2023 software come with a one-year Sage Support Plan and unlimited software upgrades. Included in the company care plan are:
For a year following the date of purchase, you will get updates to make sure you are using the most recent version of Sage 50.
Access to technical support specialists for your Sage 50 solution by phone +1347-967-4079 email, and online chat.
You can access the Sage Small Business Webcast Series to get the guidance you need.
Conclusion
Hopefully, this blog gives all the major details regarding Sage 50 Quantum Accounting 2023 Overview. You are now aware of how the Sage 50 Quantum Accounting 2023 beneficial for your business. Meanwhile, you can easily reach the team of Sage 50 experts to know more about this Sage 2023 Edition and get better assistance with less delay. The team will dedicatedly be committed to serving your doubts all round the clock.
🔹FAQs🔹
What Advantages Does Sage 50 Quantum Cloud Hosting Offer?
These are a few significant advantages that this accounting software offers:-
The data is accessible to up to 40 employees securely at any time and from any location.
Applications can be created independently, with better manageability.
Gives you the necessary flexibility to expand your business's offerings.
Real-time reporting capabilities and user-friendly dashboards are features of this program.
You can use these to further examine your financial data and make wise judgments.
It is an easy-to-use piece of software that helps users save a lot of time.
You may integrate Sage with a variety of business applications to improve the efficiency of your operations.
Offers limitless access to automatic updates.
Your purchasing and sales activities can be managed and tracked more effectively using automated workflow tools.
Large database capacity that speeds up report access.
It is specifically designed to meet the demands of manufacturers, distributors, contractors, and nonprofit organizations.
How do I Subscribe Sage 50 Accounting U.S. Announcements, News, and Alerts Forum?
The Sage 50 Accounting U.S. Announcements, News, and Alerts forum was established to house product announcements, including the most recent releases and tax updates, as well as news and details on Download Sage 50 2021—U.S. Edition.
In order to subscribe this forum:
Choose Turn Forum Notifications On from the menu on the right
When a new post is made in a forum, you'll get an email notification if you subscribe to the forum
4 Note: To modify the settings for the notifications you want to receive via email for, go to:
Click Manage Subscriptions after choosing More from the right-hand menu
Choosing Notifications
Choose which email notifications you wish to receive
Select the email notification types you want to stop receiving.
Can We Add Another Company within Sage 50 Quantum Accounting?
Yes, it is possible to add another company in your Sage 50 Quantum Accounting, simply by following the below steps:
Initially, log in to the current company
Select the File tab followed by selecting the "New" button
After that, select the Company option
Enter your password if prompted and then hit the Ok button
Once done then select the "Create" option
Click Change to modify the location where your company's data will be stored
Click "Ok" after navigating to your selected location
Click Continue if you are satisfied
On your screen, the Add a company window will appear
Enter the necessary information in the fields
Once finished, select the Create tab
Re-enter your login information
At last, hit the "Ok" button.
Tags: