No doubt, Sage 50 software is easily accessible for all types and sizes of businesses. Sometimes, software used to manage your accounts, payroll, finances, personnel, operations, and other payment-related difficulties disturbs users when user begin using it. When such problem happen, it may throw an error notification that says "Sage 50 Key file not found or bad key file". However, you can access your software whenever you want from any place and it's pretty simple to monitor all the checks and payments if you have real-time access.
As we all know flaws and errors are common to encounter in any accounting software. Likewise "Sage 50 key file not found or bad key file" error are usual to found but the resolutions for the same is also available. If you're also victim of such issue then don't worry, this article is going to provide you a complete resolutions to easily handle this Sage 50 error.
What Do You Understand with "Sage 50 Key Not Found or Bad Key File" Error?
When attempting to open a file that has been encrypted with a protected password, an error message such as "key not found" or "bad key file" may appear. When you attempt to open the file using the Sage software, this issue frequently happens. There are a few things you may do to try and fix the issue if you receive this warning.
Initially, make sure the file's password is right. Second, ensure sure Sage software is up to date and installed. Last but not least, confirm that your computer has the necessary hardware and software to unlock encrypted data.
What are the Reasons Behind the "Sage 50 Key Not Found or Bad Key File" Error?
More than one factors are responsible for the error. The jotted below are few of the possible reasons that could lead to the "Sage 50 key not found or bad key file" error.
Sage 50 is being hampered by some antivirus software.
A crucial file or files have been deleted from the Shared Documents folder: In Windows, go to the C:\Users\Public\Public Documents\Sage Software, a bad key file or key file not found problem happens as a result of Sage Software.
Sage key files were located in the Shared Documents folder, but it has been manually moved or destroyed.
After installation, Sage 50 is not yet active.
The machine is suffering from malware.
Efficacious Methods to Fix the "Sage 50 Key Not Found or Bad Key File" Error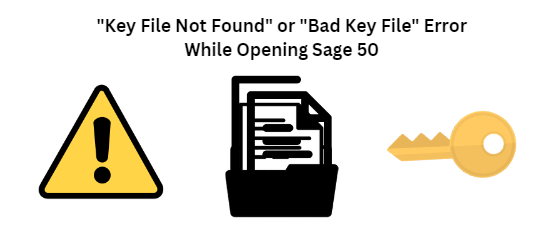 There are multiple methods available to get rid of the error.
Let's check one by one from the discussed below:
Method 1: Run Your Sage 50 as an Administrator
In the beginning, perform a right-click on the Sage 50 icon
Then choose the option "Run as an Administrator"
If you continue receiving the same error message then you're supposed to move to next method
In case, if you are no longer receive the "Key file not found", this could indicate a permission issue to access the software.
Method 2: Verify your System Setup
Your use of Sage 50 may be impacted by a third-party app
Run a virus scan if there are no installed third-party utilities
Look for the antivirus software that has expired and delete it or resubscribe, if necessary.
Method 3: Check Fir the Activation Status
Initially, launch the desktop icon for Sage 50
Next, Sage 50 should be turned on when prompted
Continue to the next method, if the issue is not fixed.
To get the best assistance regarding the Sage 50 Key File Not Found or Bad Key File, you can simply dial +1-347-967-4079 to contact our Sage 50 live chat Specialists Team.
Method 4: Uninstall and then Reinstall your Sage 50 Software
In windows 8 and older version

Go to the Windows Start >>> Control Panel >>> Programs and Features

In Windows 10

Do a right-click on the Windows Start button and then click on the Programs and Features/Apps and Features

From the list, pick your Sage 50 version.
After that, hit the "Uninstall" button
Once your software is successfully uninstalled
Then perform the Re-installation process of the Sage 50 software
Or Reinstall the program from the Installer Files folder in C:\\SagePut your Sage 50 Accounting installation CD into your DVD/CD drive if you have one-double-click

on the installer file after downloading the Sage 50 programNavigate to the Sage 50 download folder if the previous version of Sage 50 automatically downloaded the update on your workstation and you need the file for your server:

C:\Users\Public\Documents\Sage Software\Simply Accounting\DownloadRun the executable by copying SA_202**CP1.exe to your server and starting it thereRun the file by looking for SA_202**CP1.exe in Windows

For a list of all currently supported and available downloads, look for the Sage 50 Product and Payroll UpdatesYou might receive a similar notice asking you "Do you want to allow the following program to make changes to this computer?" depending on your computer's settingsChoose "Yes" to proceedClick "Next" to proceed

The wizard extracts the installer files by default to C:\Sage\Sage 50 Accounting Installer Files – CDN Release 202x.x

To begin the installation process, select the Install Sage 50 optionChoose your language, then click "OK" to continueIf you want your firewall to be configured automatically, choose the "Yes" buttonPick the installation type you want:

Select Advanced, then select Server Only to install only the Connection Manager if you are installing this on your server machine and won't be running Sage 50 on that PCClick Typical to continue if you intend to use Sage 50 on this PC

If you are eligible for the most recent version of Sage 50 but have an older version installed on this computer:

If the computer is connected to internet, the installer will immediately retrieve the activation codesClick Next to proceed and then enter your serial number after choosing to activate automatically or selecting No thanks if you prefer to do it yourself

If you wish to move forward with the installation, please read the licence agreement and click I agree to accept the conditions of the agreement

To complete the installation and launch Sage 50, hit the Finish button.
Learn more about our

Convert Sage 50 Data to Newer Version
Method 5: Turn off the Controlled Folder Access
Start with selecting the Windows Security, Virus & threat protection under Update & Security >>> Start Settings >>> Update & Security
Choose Manage settings from the list of settings for virus and threat prevention
Choose Manage Controlled folder access from the list under Controlled folder access
At last, set Off for the Controlled folder access setting.

Conclusion
Hopefully, this article covered all the possible resolution methods to remove the Sage 50 key file not found or bad key file error. If you still have any queries remains regarding accounting software or looking for best resolution of Sage 50 errors or any other functional glitches. You can feel free to reach the Sage 50 Help desk Team to get better assistance with less delay. The team will dedicate be committed to serving your doubts all round the clock. If you have any specific query, also get in touch with the experts of Live Chat.
A Frequently Asked Questions
Does Temporarily Disabling of the Avast Anti-Virus Resolve "Sage 50 Key File Not Found or Bad Key File" Error?
Yes, it may help to fix the error to some extent.
Here's how you can temporarily disable the Anti-virus software:
Do a right-click on the Windows Taskbar icon
Then look for the Avast icon which you may find at the bottom of your screen
Next, you have to right-click on the same
Moving to the Avast Shields Control tab
Choose "how long you wish your Avast to remain disabled"
And then hit the green-colored button in order to accept the notification
At last, attempt to open the Sage 50 software and verify whether the error is resolved or not.
What are the Steps Involved in Turning off the Firewall in Windows 10?
Simply, go to the Windows Security tab. Click on the "Firewall & Network protection" option. After that, move to the Network section and choose the network which you wish to disable the firewall. At last, turn off the toggle in order to switch the Microsoft Defender Firewall section and this will disable the firewall.
What are the Step by Step Procedure to Turn on the Sage 50 as an Administrator?
The below are the step by step procedure to turn on the Sage 50 as an Administrator:
Select Properties by performing a right-click on the Sage 50 Accounting icon
Next step is to choose the Compatibility tab
To run this program as an administrator, check the appropriate
To change settings for all users, select it
To run this program as an administrator, check the appropriate box
Choose "Apply" and then choose the "OK" button
Once again, click on the OK button
Accept the User Account Control pop-up before starting the Sage 50 icon.

Tags: