As everyone knows QuickBooks is full of features and tools through which users can not only manage their business but also can save time. QuickBooks has a feature that is reconciled and it is used to reconcile the credit card account with card paper's statement. The Reconcile utility is a part of the banking menu and opens in its separate window.
Reconciling the credit card account every time you receive a paper statement that assists you to catch any irregular or missed transaction which leads to a wrong account balance. The program can automatically open the option to pay the bill after you complete the reconciliation process also help you to identify QuickBooks Reconciliation Discrepancies.
How To Reconcile Credit Card In QuickBooks Desktop
Reconcile credit card steps
Below are the steps through which you can easily reconcile the credit card :
Select the "reconcile" option in the banking section in QuickBooks homepage and open the begin reconciliation window "
Now click the "Account" drop-down menu >> select the credit card account comes under "Credit card"
Now mention the date of the credit card statement in statement date place, after that make sure that starting balance on credit card statement match the amount in the program beginning field. If the opening balance does not match then you must need to correct the opening balance in the credit card account. Go to the List menu and open it then a select chart of accounts. After that select the credit card account >> type the correct opening balance or you can also edit the transactions in the register to make correct any wrong data , You can get detailed instruction about QuickBooks Reconciliation Change Beginning Balance simple steps.
Now mention the ending balance from the credit card statement in ending balance field. Any finance charges need to be filled out in the enter any finance charge field. For eg. mention the finance charges amount and the data in the related fields
Click on continue field and open the reconcile window, then select the "Hide Transaction after statement end date "box
Now click on every transaction in the window which shows on the credit card statement. Clicking on transaction mention a checkmark in front of it which automatically marks it as cleared. When difference value comes to 0.00 it means the account is reconciled properly
Click the Reconcile now button to open the make payment window >> Select a payment radio button – like "write a check for payment now" and then click ok. This function opens the payment option window as write checks window, it is so that you can pay the credit card bill and select reconciliation window also open itself
Chose the radio button on the select reconciliation report window which is next to the type of reconciliation report which you want to see for example summary report
Now click on the Display button to see the report, or click the print button to print the same >> Click the close button to quit the window
How to Reconcile Credit Card in QuickBooks Online?
Step 1: Navigate to the Credit Card Reconciliation
In the left menu bar you have to move your cursor over Acounting, and then you have to select Reconcile Credit card.
Step 2: Select the Account and Enter your Statement information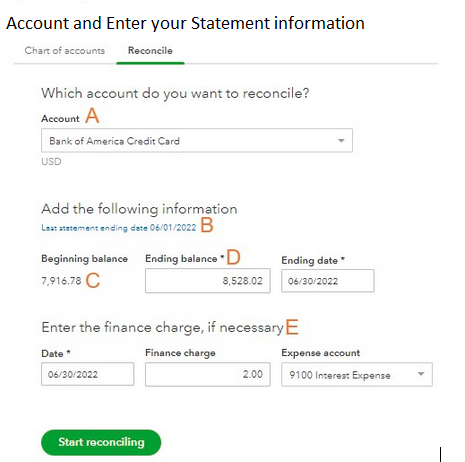 Account: You have to select the credit card account that you are reconciling.
Last statement ending date: The date of the last statement reconciliation for this credit card account is shown by QuickBooks. If this is the first credit card reconciliation, there won't be a date.
Beginning balance: The beginning balance of the current statement must match the ending balance of the previous statement, which QuickBooks displays as reconciled. If this is the first time the credit card has been reconciled, this amount will be 0.
Ending balance: From your credit card statement you have to input the ending balance.
Finance charge: Input the finance charge (if any) from your credit card bill if you haven't previously done so in a different transaction. Include the expenditure account or category to capture the expense as well as the date the charge was assessed. When the reconciliation is finished, QuickBooks will automatically record this charge.
Click the green Start reconciling button after entering all of your statement data.
If you have any specific query, also get in touch with the experts of QB live chat 24*7.
Step 3: Match Credit Card Transactions
QuickBooks will show a screen with a summary of the reconciliation in the top half and detailed transactions in the bottom half after the previous step is finished.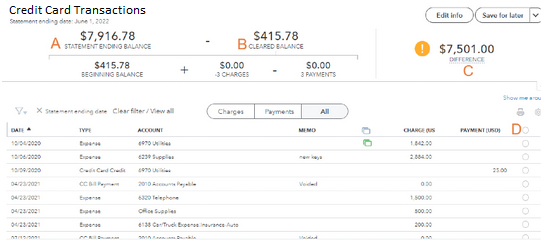 A. Statement ending balance: The statement balance that was entered on the previous screen is carried over and should be the same as the final number that appears on your credit card statement.
B. Cleared balance: QuickBooks calculates the cleared balance by adding charges you mark as cleared and subtracting payments you indicate as cleared to the beginning balance from the previous page.
C. Difference: Before you can complete a reconciliation, the difference between the cleared balance and the statement's closing balance must be zero. If the difference isn't zero, you will notice an exclamation point, which means you need to reconcile those records.
D. Radial buttons for cleared transactions: If a transaction displays on your credit card statement then you have to click the radial button in the right-most column for that transaction. The transaction will be included in the cleared balance (item B) once you press the radial button.
Read more

: QuickBooks Reconciliation Missing Transactions
Step 4: Confirm the Difference is Zero
The difference between your statement's ending balance and cleared balance should be zero if all the selected transactions in QuickBooks match the transactions on your credit card account. If that it isn't, look over our troubleshooting advice to identify inconsistencies on your statements or in QuickBooks.
The transactions in this sample reconciliation have all been matched to credit card statements.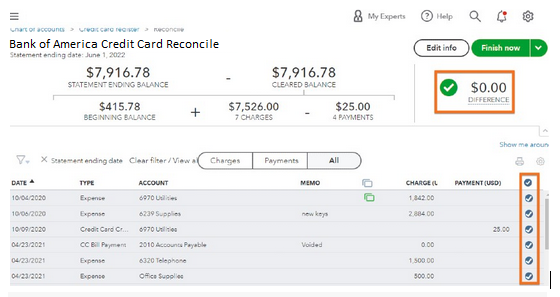 You have to click the green finish now button that is in the upper-right corner of the screen when your reconciliation is complete.
Step 5: Making a Payment on the Credit Card Balance
If you choose to make a payment against this credit card amount, QuickBooks will ask you in a message that appears when it has confirmed the reconciliation is finished.
You can write a check or create a bill later by navigating directly to the Write Check or Create Bill pages, so you don't need to make a decision right away. However, if you wish to pay right away, choose one of the following:
A. To access the Write Check page and draft a check for the credit card balance you desire to pay, you have to click Pay all or a portion of the bill now.
You shouldn't change the category's default setting, which should be the credit card account you recently reconciled.
B. To access the Create Bill screen, you have to click on Enter a bill to pay later.
From there, you can enter a bill for the balance you want to pay by the due date indicated on the credit card statement.
Verify that the category corresponds to the credit card you recently reconciled, that the bill date matches the statement date, and that the due date matches the due date on the credit card statement.
Steps to Reconcile Bank and Credit Card Accounts
Step 1 : Initiating the Reconciliation Process
To commence the reconciliation process, users should access the designated Reconciliation Window. The user's initial task within this window involves selecting the relevant bank account for reconciliation. Simultaneously, a comprehensive analysis of all associated details is essential. A critical precautionary measure is verifying the accuracy of all pivotal information displayed in the window before proceeding to the subsequent steps.
Accessing the Begin Reconciliation Window entails navigating the "Banking" menu and selecting the "Reconcile" tab.
Guidelines for QuickBooks Merchant or Payments Account Holders:
A specific set of steps should be followed for users possessing QuickBooks Merchant or Payments accounts. If the QuickBooks Desktop system detects a lack of active sign-in to the Payments account, a prompt will materialize on the screen. This action ensures the account's proper authentication and association with a legitimate company ID.
Commencing the Process: 1. Within the "Account" section, the user must designate the bank or credit card account slated for reconciliation.
2. Notably, the Statement Date will be pre-populated. Ordinarily, this date should be set around 30 or 31 days after the previous reconciliation's statement date. However, users retain the flexibility to adjust this date as required.
3. The Beginning Balance field will be automatically populated, reflecting the cumulative value of previously cleared transactions. Verifying that this beginning balance aligns with the statement's opening balance is imperative.
4. Inputting the precise balance from the statement into the "Ending Balance" section constitutes the subsequent step.
5. If any service charges or interest amounts appear in financial reports yet remain unrecorded in QuickBooks records, users must enter these values in the designated "Service Charge" and "Interest Earned" fields. However, charges already accounted for in previous QuickBooks financial transactions should not be re-entered.
6. Proceeding onward, users should click on the "Locate Discrepancies" icon. This action triggers the generation of accessible financial reports designed to identify discrepancies and other reconciliation-related issues.
7. The "Locate Discrepancies" window offers options to "Undo" or "Restart Reconciliation," providing users with flexibility in their reconciliation approach.
Concluding the Reconciliation Process: The final step involves clicking the "Undo Last Reconciliation" button. This step is relevant when rectifications are necessary, either due to unaddressed discrepancies during QB reconciliation or the need to revise the opening balance date. Upon undoing a previous reconciliation, the initial financial balance reverts to its previous state, and all previously cleared financial transactions are marked as uncleared.
8. If all particulars are accurate and aligned, users can proceed by clicking the "Continue" tab, thus advancing to the Reconcile window.
Step 2 : Reconcile Screen
Presenting the Reconciliation Screen, where you can fine-tune your preferred settings for matching against the bank statement. This is the stage where you make selections to clear specific financial transactions. Should the screen display a zero difference, once you've chosen all the transactions corresponding to the statement, you're ready to celebrate! At this point, a simple click on the "Reconcile" tab finalizes the reconciliation process.
Hide financial transactions after the statement's end date: For added clarity and organization, financial transactions beyond the statement's end date can be hidden. To achieve this, the user is prompted to mark a confirmation box if they wish to view only the transactions falling within the statement period relevant to the ongoing task. This feature is handy when catching up on reconciliation progress, as it prevents confusion.
Type-in the Transactions in QuickBooks: These items are categorized and divided into two sections – Checks and Payments (Outgoing Money) and Deposits & other Credits (Incoming Money).
If the user reconciles their credit card account, the sections will change to Charges and Cash Advances (Purchases) and Payments and Credits (Payments to the Credit Card Company).
At this point, the user must verify the financial transactions by comparing them to the official bank or credit card statement.
They should then choose only the transactions that match the statement, ensuring the same amounts.
It's important to highlight that the Cleared Balance will be adjusted as transactions are selected.
What if numerous financial transactions exist?
Under such circumstances, financial transactions are automatically arranged according to the date by default. If many financial transactions occur during the statement period, it could be more convenient for the user to organize them. This is particularly helpful when the user attempts to identify a transaction with a specific amount, reference, or other criteria.
The initial action required for this procedure involves a single click, triggering an automatic sorting of financial transactions.
A second click on it will invert the sorting order.
For instance, if the user intends to arrange the financial transactions based on the amount, they should click on the header labeled "Amount".
The financial transactions are reorganized either in ascending or descending order.
Items designated as clear: Within this category, the aggregate count, the total value of Deposits, and specifically chosen Checks by the user are displayed. Some banks provide a similar overview of financial transactions in their statements. This segment proves highly efficient for users aiming to identify any disparities, thus saving valuable time promptly.
Mark/Unmark All: Clicking these buttons selects/deselects financial transactions. Selecting all transactions simultaneously could save time if reconciling regularly and all statement period transactions are accurately entered. Ensure the reconcile window displays a zero difference between ending and cleared balances.
Navigate to: This feature allows users to access or modify financial transactions directly from the reconciliation screen. It proves beneficial when users need to make minor adjustments to the financial transaction before marking it as reconciled or cleared.
Matched: If the user is dealing with an account configured for online banking, they should click on this button. As a result, the system will automatically select the financial transactions that have been downloaded and perform an auto-match.
Display Columns: Users can choose which sections they wish to have visible by clicking this button.
Why is it important to choose specific columns?
QuickBooks software initially shows columns like Date, Amount, Payee, and CHK #. However, there's an exemption for the Amount column – users can customize the display to prevent confusion by adding or removing other sections. For instance, if the statement primarily includes reference # for financial transactions, the user might display only CHK # & AMOUNT columns.
This approach dramatically aids users in swiftly identifying and annotating financial transactions.
The user who intends to make last-minute modifications to the details or information entered into the Begin Reconciliation window can click the tab.
This domain gives the user a glimpse of the reconciliation figures.

Service Charge, Ending Balance, and Interest Earned: Each of these elements relies on the entered amount specified for these categories within the Begin Reconciliation window.
Cleared Balance: The amount decreases as users choose to clear checks and payments, and it increases when they opt to clear deposits and other credited amounts.
Discrepancy Explanation: This feature enables users to discern the variance between the initially entered beginning balance and the reconciled balance (comprising financial transactions selected up to the current moment). It's important to highlight that under optimal circumstances, this variance should ideally be zero.

Leave: The user is demanded to opt for "Leave" button, to operate another account, or to edit financial transactions after dragging out of the reconcile window.
How to Reconcile Multiple Credit Cards in QuickBooks Desktop and Online?
QuickBooks Desktop
You have the option of selecting a Pro, Premier, Enterprise, or Accountant plan if you are not presently a user of QuickBooks Desktop. We contrast QuickBooks Desktop products to help you in selecting the best one. You will receive a 33% discount on your first year of use if you choose to buy Pro, one of our top small business accounting programs.
Visit here

: QuickBooks Enterprise Bank Reconciliation
Step 1: Select "Reconcile"
You have to click Banking from the top menu bar on your QuickBooks Desktop dashboard, then choose Reconcile from the dropdown menu.
Another option is to select the Reconcile icon from the Banking menu on the home page of your QuickBooks Desktop.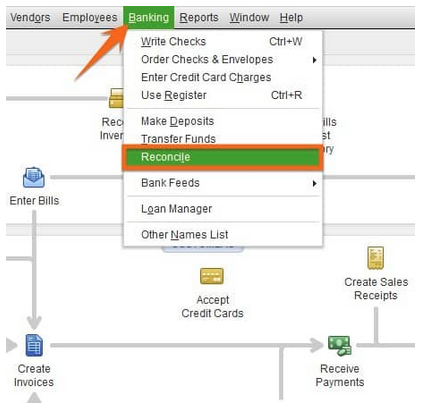 Step 2: Enter your Credit Card Statement Information
A pop-up page will display after selecting the Reconcile icon, asking for information from your account statement, such as the following:
A. Account: You have to choose the credit card account that you want to reconcile.
B. Statement End Date: Indicate the day on which the statement period ends.
C. Beginning Balance: Your last reconciliation's ending balance serves as the beginning balance. QuickBooks Desktop will automatically generate this.
D. Ending Balance: On your credit card statement you have to enter the ending balance.
E. Finance Charge: Enter the finance charge, also known as interest, that was charged to your credit card along with the date and the expense account you want to charge it to. If you have already entered the expense for interest, leave this field empty because doing so will generate a credit card transaction:
Click the Continue button at the bottom of the screen once all the information has been entered.
Step 3: Reconcile your Transactions
A screen summarizing the reconciliation will occur once you click Continue, as seen below. All of the transactions from your credit card account registration that have been uncleared are listed: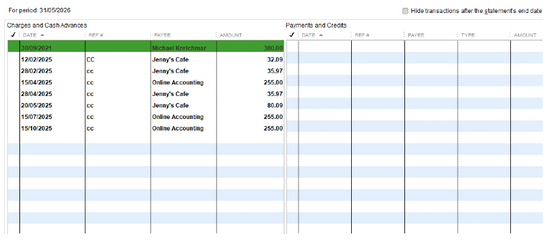 Here is an example credit card statement that was used in this lesson to show how reconciliation works. Review the information in this sample statement for a while because it will be used repeatedly.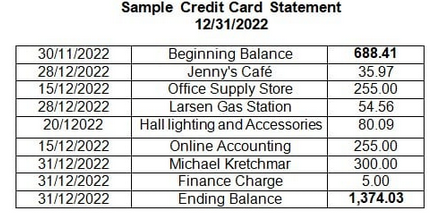 Here is an example credit card statement that was used in this lesson to show how reconciliation works. Review the information in this sample statement for a while because it will be used repeatedly.
Click more

: Undo a Reconciliation QuickBooks
Trace From QuickBooks to Your Credit Card Statement
Compare each transaction on your credit card statement to those in the QuickBooks Reconcile screen. Select the checkbox next to each transaction that matches your statement by clicking on the box. The cleared balance and difference on the lower right side of the screen will change when you check off a transaction. To make the difference $0 is your goal.
Don't remove a transaction in QuickBooks if it doesn't appear on your credit card bill. Most likely, the transaction will appear on the statement for the next month. Any unmarked transaction from this month will immediately show up in the reconciliation from the following month. However, if the charge is older than a month, it needs to be looked into to see if the QuickBooks entry is inaccurate.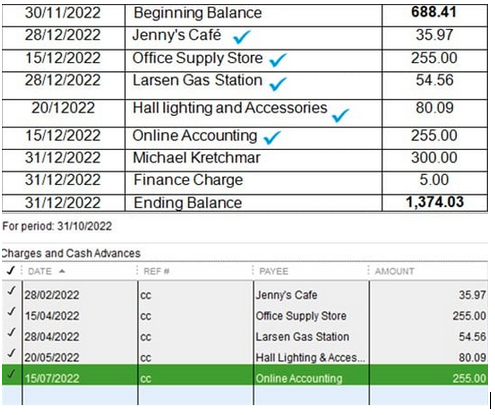 You will see that the transactions for Jenny's Cafe, Office Supply Store, Larsen Gas Station, Hall Lighting and Accessories, and Online Accounting match those in QuickBooks in our sample credit card statement.
Trace from Credit Card Statement to QuickBooks
You must add a transaction to QuickBooks if it appears on your statement but isn't in QuickBooks but the transaction is accurate. You will see that the $300 transaction for Michael Kretchmar isn't listed in QuickBooks on our sample credit card statement. Since it is a genuine transaction in this case, it should be added.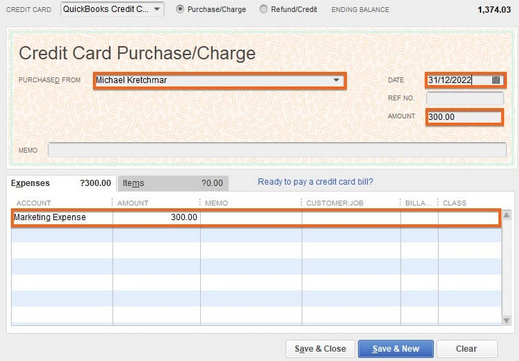 Open the Enter Credit Card Charges screen from the Banking menu to start a new transaction. Based on your credit card statement, enter the correct data.
You have to click Save and Close and the transaction will be added to the reconciliation screen.
Step 4: Confirm the $0 Difference
When the difference between your statement's ending balance and cleared balance is zero, you have properly reconciled your credit card balance. On the screen, you will also see a Modify button that you can use to change the quantities you entered in Step 1. Click Reconcile Now if all of the information is accurate.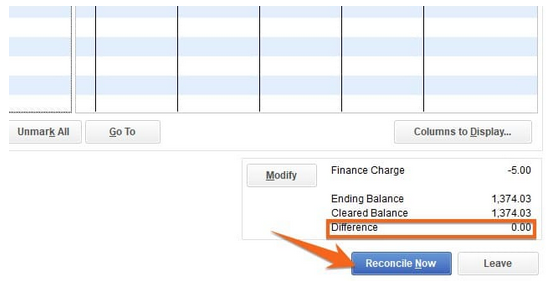 Step 5: Write a Check to Pay Now or Enter a Bill
When you click Reconcile Now, a pop-up window will ask you if you want to enter a bill for later payment or write a check for payment. Click Cancel to stop performing either of the two actions, and you are done. Otherwise, you can select your option and click OK.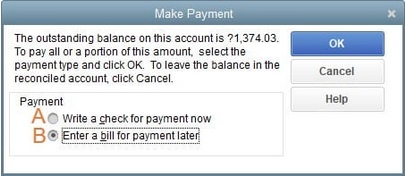 Write a check for payment now: You have to create a check for the entire credit card balance or a portion of it that you want to pay.
Enter a bill for payment later: To pay the balance by the due date you have to enter a bill. This will create a bill that will appear on your unpaid bills screen that will remind you to make the payment.
See alos

: QuickBooks Online Reconciliation Adjustment
How to Perform Credit Card Reconciliation in QuickBooks Online?
Reconciling credit cards is a fundamental task within bookkeeping, ensuring alignment between credit card activities in QuickBooks and their corresponding statements. QuickBooks Online simplifies the reconciliation of two credit cards within a consolidated bank statement. To begin, you need to set up your bank account. Optionally, you can also perform a force reconciliation, which involves reconciling a specific account followed by a new transaction adjustment.
Here are two procedures for achieving this:
Procedure 1: Setting Up a Parent Bank Account and Sub-Account
Step 1: Access the "Transaction" or "Banking" option from the displayed interface.
Step 2: Choose "Connect" or "Add Account" if the account hasn't been created yet.
Step 3: Identify your bank.
Step 4: Proceed with "Continue."
Step 5: Enter your bank website's username and password.
Step 6: Select the type of account to add.
Step 7: Define the date range for transaction downloads; this varies by bank.
Step 8: Confirm by clicking "Connect."
Note: Verify how your bank categorizes downloaded transactions upon connecting to online banking. If transactions are downloaded into a single account, link them to the parent account. If they appear in separate tabs, connect them to respective sub-accounts. If there's an incorrect opening balance, you can delete it:
Step 1: Access the left-side "Accounting" menu.
Step 2: Choose "Chart of Accounts."
Step 3: Select the account in question.
Step 4: Click "View Register."
Step 5: Hit "Edit" and remove the opening balance.
Step 6: Save changes.
Once these steps are completed, reconcile the parent account, which will update sub-account transactions.
Procedure 2: Reconciling the Account and Adding Necessary Adjustments
Step 1: Click on the "Gear" icon.
Step 2: Access "Reconcile" in the "Tools" section.
Step 3: Choose the account.
Step 4: Input the ending date and balance.
Step 5: Initiate reconciliation and save for later.
Step 6: Access the "Finish now" tab, select "Add to adjustment and finish."
These procedures streamline the process of reconciling multiple credit cards within QuickBooks Online. By following these steps, you'll maintain accurate financial records and ensure synchronization between your credit card activities and statements.
Benefits of QuickBooks Credit Cards Reconcile
Finds missing transactions: For the account to reconcile, you must add any transactions that appear on your statement but have not yet been entered in QuickBooks.
Identifies incorrect amounts The account won't reconcile if the same transaction has different amounts in QuickBooks and the bank statement.
Locates duplicate transactions: You can find transactions that shouldn't be in QuickBooks by looking at those that didn't show up on your bank account for the month.
Shows erroneous or fraudulent charges: You should check any charges on your bank statement that aren't listed in QuickBooks to see whether they are legitimate. Put them on the platform once they have been given permission.
Reconciliation of QuickBooks Desktop Account
You should review your accounts in QuickBooks to make sure they line up with your actual bank and credit card bills, just like you would when balancing your checkbook. Reconciling is the process of doing this.
Your checking, savings, and credit card accounts should be reconciled each month. Check the list of transactions on your bank statements against what you entered into QuickBooks after receiving them. Your accounts are accurate and balanced if everything matches.
Step 1: Review your Opening Balance
Make a backup of your company file before you begin the reconciliation.
Review the opening balance if you are reconciling an account for the first time.
Step 2: Prepare for the Reconciliation
Make sure to include every transaction for the time period you plan to reconcile the bank statement. Wait to enter transactions that haven't cleared your bank yet and aren't reflected on your account.
Step 3: Start your Reconciliation
You can begin reconciling as soon as you receive your bank statement.
Start with your oldest bank statement if you are reconciling multiple months. Each month should be reconciled separately, one statement at a time.
Note

: A sign-in popup will appear if QuickBooks Desktop detects that you are not logged in while you are reconciling a Merchant or Payments account. This makes sure that a legitimate company ID is successfully linked to your account.
Begin by going to the Banking menu and then you have to select Reconcile
In the Account section, select the bank or credit card account you want to reconcile.
The Statement Date is automatically filled in. It usually takes place 30 or 31 days after the previous reconciliation's statement date. Adjust it as necessary to suit your bank statement.
Additionally, QuickBooks automatically enters the Beginning Balance. The ending balance from your latest reconciliation is used to compute this amount.
The closing balance from your bank statement needs to be entered.
Enter the service fee and interest earned based on your bank statement. Charges that are already in QuickBooks should not be added.
View all the fields at once. If the data is correct you have to select OK or Continue.
Don't worry if your starting balance doesn't match your statement. You have a few tools that will help you out.
Choose Locate Discrepancies if the numbers don't add up. This provides you with reports you can use to find discrepancies and other problems with reconciliation.
Here's how to fix your opening balance and beginning balance if you're still having problems.
Choose Undo Last Reconciliation if you need to start afresh from scratch.
Note

: It should be noted that when you undo a previous reconciliation, your starting balance returns to that of the prior reconciliation. On the reconciliation, every cleared transaction is now uncleared.
Step 4: Compare your Bank Statement and QuickBooks
Here are some steps you can take to simplify your reconciliation.
Select Hide transactions after the statement's end date if you only want to see transactions for the current statement period.
Charges and Cash Advances (purchases) and Payments and Credits (payments made to the credit card company) are the parts to look at while reconciling a credit card account. One section at a time, pay attention.
Choose Matched if you're reconciling an account for online banking. Add the Statement Ending Date from your bank statement after that. This immediately picks up and matches the transactions that QuickBooks download.
The register indicates matched transactions by placing a lightning bolt next to them. After you reconcile it, the lightning bolt is replaced by a checkmark.
Select the header or title of a column to sort the list.
The list should be checked if there are more transactions in QuickBooks than there are on your reconcile bank statement.
Match your transactions
Start with the first transaction on your bank statement once you're ready.
In QuickBooks' Reconciliation box, locate the same one.
Both transactions should be compared. Select the checkbox and place a checkmark in the checkbox column if the transactions match. It brings the transaction into balance.
The transactions on your statement should be compared to those in QuickBooks. The Cleared Balance amount lowers as transactions are cleared or added to the reconciliation. If you add or clear deposits and other credit amounts, the total rises.
Do not label a transaction as reconciled if it does not appear on your statement. Here are a few fast techniques to see if everything matches:
Look for the Items you've marked cleared section to view the total number and dollar amount of transactions you contributed to the reconciliation. On bank statements, several banks offer the same summary of transactions. To determine if any transactions are missing, compare the total number of transactions.
Select the transaction, go to it, or double-click if you want to alter it or learn more about it.
If you need to go back and change the data you submitted in "Step 3: Start your Reconciliation," choose Modify. The section next to it contains information on the service fees, interest, and ending balance.
When you're done, there should be no difference between your bank statement and QuickBooks. If so, choose Reconcile right away.
Get Help Reconciling Credit Card QuickBooks
For any assistance dial QuickBooks service team of or visit, ReconCileBooks. QuickBooks experts are available 24*7 to help you with all the possible resolutions.
---
Frequently Asked Questions (FAQs)
What is the Credit Card Reconciliation Process?
To maintain and support proper bookkeeping, credit card reconciliation involves comparing the transactions on a credit card statement to the company's ledger. Before each monthly closure, as well as each quarter's and fiscal year's close, credit card reconciliation takes place.
How Do I Reconcile Multiple Credit Cards in QuickBooks Desktop?
Firstly, you have to select Reconcile
Then you have to enter your Credit Card Statement Information
Now you have to Reconcile your transactions
You have to confirm the $0 Difference
At last, write a check to pay Now or Enter a Bill.
What is Account Reconciliation QuickBooks?
You must check your accounts in QuickBooks to make sure they line up with your bank and credit card bills, just like when you balance your cheque book. Reconciling is the action of doing this. The transactions on your bank statement will be compared to those recorded in QuickBooks once you have them in your hands.
Why is it Important to Reconcile Bank and Credit Card Accounts?
It is important that you monitor your company's cash flow as a business owner. Through bank reconciliation, you may observe how money enters your accounting records and combines with your bank balance, helping you in planning your payments and spending the most effective ways to spend your money.