Migrating from QuickBooks to Zoho Books can streamline your accounting processes and provide you with a range of features. To initiate the migration, start by exporting your data from QuickBooks, including transactions, invoices, and customer details. Zoho Books offers a simple import tool that allows you to map your QuickBooks data fields to the corresponding Zoho Books fields. Once the data is imported, review and reconcile any discrepancies to ensure accuracy. Take advantage of Zoho Books' extensive reporting capabilities and integrations with other Zoho applications to enhance your financial management. Make sure to train your team on the new platform and back up your data before making the switch.
What is QuickBook?
QuickBooks is a known accounting software designed and marketed by Intuit Inc. It is created to help small and medium-sized businesses handle their financial transactions and structure their bookkeeping operations. With its user-friendly interface and a wide range of features, QuickBooks has become a go-to solution for businesses looking for smooth and reliable accounting software.
QuickBooks offers a range of tools and modules that allows users to handle essential accounting tasks like creating invoices, tracking sales and expenses, managing payroll, causing financial reports, and reconciling bank statements. It delivers a complete platform for managing all elements of a company's financial operations, making it easier for business owners and accountants to stay methodical and make sound decisions.
One of the key benefits of QuickBooks is its proficiency to combine with other software and services typically used by businesses, including banking platforms, e-commerce platforms, and third-party applications. This permits easy data transfer and synchronization, decreasing manual data entry and saving time.
Moreover, QuickBooks offers different versions and editions customized to particular industries, including retail, manufacturing, construction, and non-profit organizations. This makes sure that businesses can tailor the software to meet their unique accounting requirement and comply with industry-specific rules.
Learn more about our

: Timberline to QuickBooks Data Conversion
What is Zoho Books?
Zoho Books is an online accounting software made for small and medium-sized businesses. It offers a complete set of features to help businesses handle their finances smoothly. With Zoho Books, users can effortlessly create and send professional invoices, track expenses, manage inventory, reconcile bank transactions, and produce financial reports.
One of the fundamental benefits of Zoho Books is its user-friendly interface, which makes it easy for non-accounting experts to navigate and understand. It offers a clear summary of the company's financial health, permitting users to make knowledgeable decisions. The software also integrates with other Zoho applications, such as Zoho CRM and Zoho Inventory, creating a seamless workflow across various departments.
Zoho Books supports multiple currencies and languages, making it suitable for businesses operating internationally. It also enables collaboration by allowing numerous users to access and work on the same data simultaneously. Moreover, Zoho Books offers mobile apps for iOS and Android devices, providing that users can control their finances on the go.
If you have any specific query, also get in touch with the experts of QuickBooks live chat.
Step-by-Step Guide for Migrating Data from QuickBooks to Zoho Books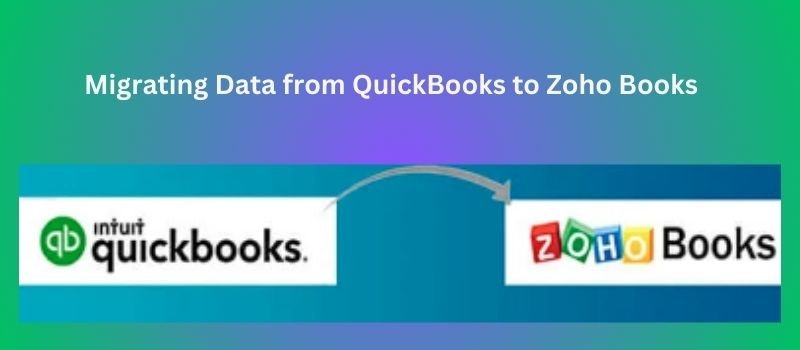 Follow the given steps to migrating data from QuickBooks to zoho books:-
Prepare your Data in QuickBooks
Make sure your QuickBooks data is up-to-date and authentic before migrating.
Confirm that all transactions, invoices, bills, and accounts are accurately entered and reconciled.
Export Data from QuickBooks
In QuickBooks, go to the "File" menu and choose "Utilities" or "Export."
Choose the option to export your data to an Excel or CSV file layout.
Select the precise data you want to export, including customers, vendors, chart of accounts, transactions, etc.
Save the exported file to your computer.
Format the Data for Zoho Books Compatibility
Open the exported file in Excel or a spreadsheet program.
Check the data and make any required adjustments or corrections.
Confirm that the column headers and data format match the needs of Zoho Books.
Some common fields in Zoho Books contain Name, Email, Phone, Address, Account Name, Amount, Date, etc.
Save the file in a compatible format, like CSV.
Setup your Zoho Books Account
If you don't have a Zoho Books account, sign up for one at.
Follow the instructions to create your company profile, set up your chart of accounts, and configure your choices in Zoho Books.
Import Data to Zoho Books
Log in to your Zoho Books account.
Go to the "Settings" menu and select "Import/Export" or "Data Import/Export."
Select the option to import data from a file.
Select the file you made in the previous steps.
Map the fields in the imported file to the alternative fields in Zoho Books.
Zoho Books will offer a mapping interface where you can match columns from your file to the suitable fields in Zoho Books.
Once the mapping is complete, start the import procedure.
Review and Reconcile Imported Data
After the import is complete, check the data in Zoho Books to make sure everything was imported properly.
Compare the balances, transactions, and other needed details with your authentic QuickBooks data.
Reconcile any discrepancies and make adjustments if needed.
Visit here

: Convert Exact Macola to QuickBooks
Setup Integrations and Additional Configurations
Configure any integrations you may require, like bank feeds, payment gateways, or third-party applications.
Customize your Zoho Books settings and preferences according to your business needs.
Setup reappearing transactions, reminders, and automation rules as required.
Test and Validate the Migrated Data
Perform tests and validations to ensure the exactness and completeness of the transferred data.
Generate reports and compare them with your QuickBooks data to make sure consistency.
Verify that all financial data, customer information, vendor details, and other needed records are properly migrated.
Train your Team and Go Live
Provide training to your team members on how to use Zoho Books smoothly.
Familiarize yourself with the elements, functionality, and workflows of Zoho Books.
Communicate the transition plan to your employees and stakeholders.
Set a go-live date and migrate to Zoho Books as your primary accounting software.
Conclusion
Remember, it's needed to thoroughly review and validate the migrated data to make sure of a smooth transition and avoid any possible issues. It's also a good practice to keep a backup of your QuickBooks data before beginning the migration process.
---
Frequently Asked Questions (FAQs)
How Do I Export My Data from QuickBooks to Zoho Books?
To export your data from QuickBooks to Zoho Books, you can follow these general steps:-
a. In QuickBooks, go to the Reports menu and select the file you want to export, like the Profit & Loss or Balance Sheet.
b. Customize the report to include the date range and other filters.
c. Click on the Export button or option within QuickBooks to save the report as a file (typically in CSV format).
d. Sign in to your Zoho Books account and tracking to the Import Data section.
e. Select the suitable module (e.g., Chart of Accounts, Customers, Vendors) and follow the instructions to upload the CSV file you exported from QuickBooks.
What Data Can be Transferred from QuickBooks to Zoho Books?
Most important data can be transferred from QuickBooks to Zoho Books, such as:-
– Chart of Accounts
– Customers and Vendors
– Invoices and Sales Orders
– Bills and Purchase Orders
– Payments and Receipts
– Products and Services
– Bank and Credit Card transactions
However, it's key to note that not all data may have a straight equivalent in Zoho Books, so some data may need manual adjustment or locating during the migration process.
Can I Migrate Historical Transactions from QuickBooks to Zoho Books
Yes, you can transfer previous transactions from QuickBooks to Zoho Books. By exporting suitable reports or data from QuickBooks and importing them into Zoho Books, you can make sure that your historical transactions are retained and accessible in the new system. It's suggested to carefully review and reconcile the migrated data to make sure accuracy.
Will I Lose any Data During the Migration Process?
The migration process aims to transfer your data properly from QuickBooks to Zoho Books, decreasing the risk of data loss. However, it's important to perform a thorough review and reconciliation of the migrated data in Zoho Books to ensure its accuracy. It's also suggested to keep a backup of your QuickBooks data before beginning the migration process for added safety.